Welcome to the camp site and restaurant U Rosumarinu
2-star campsite / 50 campsites.
Near the sea, on the road towards the peaks of Bavella you will find a magic place.
Here, by the Solenzara river, our staff will give you a hearty welcome.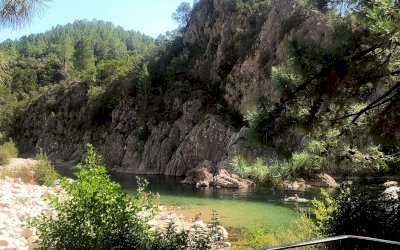 Restauration
Take your lunch and breakfast on the terrace of the restaurant-pizzeria overlooking the river …
New at the campsite
A few meters from the natural swimming pools, discover our rentals.
Attractive prices and promotions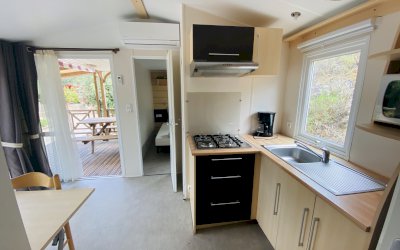 MobilHome with air conditioning, outdoor terrace, can accommodate between 4 and 5 people, fully equipped kitchen.
Find out more
For a better stay
Discover our additional services
Restoration
Breakfasts and meals on the terrace of the restaurant-pizzeria overlooking the river.
Laundromat
A laundromat is available.
Lockers & Freezers
Refrigerated lockers are available for hire and freezers are available.
Wifi access
Internet access via WIfi is available if you wish.
Disabled access
Bathroom and WC accessible to people with reduced mobility
The opinion of our customers
Find out what our customers thought of their stay
Wir kommen seit 2009 immer wieder in auf diesen einzigartigen Platz und kennen tatsächlich keinen schöneren – nicht auf Korsika, nicht auf dem Festland.
Das Flair ist einfach besonders und ruhig. Wahrscheinlich liegt das tatsächlich am nicht vorhandenen Strom und auch WLAN ist glücklicherweise auf dem Platz ein Fremdwort! Allerdings nicht nur der Platz ist besonders, auch die Umgebung ist unglaublich schön und sehr vielseitig!
Dann muss natürlich auch noch die Pizzeria mit echtem Holzofen erwähnt werden. Das Essen dort ist superlecker!
Wir freuen uns schon wie bolle auf unseren bevorstehenden Aufenthalt im Sommer 2023!
Ein kleines Paradies mit überaus netten Menschen - hoffentlich bleibt es so bis wir das nächste Mal kommen können!
Hoffentlich bleibt der Campingplatz so einfach und schön (ohne Stromanschluss).
Alles andere würde diesen wunderbaren Ort schaden. Schön das es noch Plätze gibt, ohne diese hässlichen Wohnungen auf Rädern. Wir kommen wieder mal vorbei.
Rien à dire, juste EXCELLENT. A recommander fortement.
Es war ein sehr erholsamer Campingurlaub mit sauberen Nasszellen. Besonders hervorheben möchte ich die netten Gastgeber und die Lage des Campingplatzes. Das www.trueffelhang.at Team dankt euch für einen erholsamen Urlaub.
Viele Grüsse Astrid
Wunderschöner Naturbelassener Campingplatz direkt am Fluss! Campingplatz hat keine Stromanschlüsse! Was den besonderen Charme dieses Platzes ausmacht!!! Bitte nicht ändern.
Bis zum nächsten Mal!