Welcome to the camp site and restaurant U Rosumarinu
Near the sea, on the road towards the peaks of Bavella you will find a magic place.
Here, by the Solenzara river, our staff will give you a hearty welcome.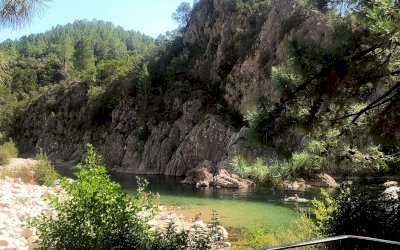 Restauration
Take your lunch and breakfast on the terrace of the restaurant-pizzeria overlooking the river …
For a better stay
Discover our additional services
Restoration
Breakfasts and meals on the terrace of the restaurant-pizzeria overlooking the river.
Laundromat
A laundromat is available.
Lockers & Freezers
Refrigerated lockers are available for hire and freezers are available.
Wifi access
Internet access via WIfi is available if you wish.
The opinion of our customers
Find out what our customers thought of their stay
Camping sympa, coin de rivière paradisiaque.
Wir freuen uns auf ein Wiedersehen im Mai 2019!
Ein traumhafter Campingplatz in der schönsten denkbaren Lage. Hier würde ich gern länger Urlaub machen. Leider gibt es keinen Stromanschluss. So konnten wir leider nicht lange bleiben.
super séjour sa fait 3ans et c toujours aussi bien et l' équipe et au top on revient l'année prochaine
Oft schon waren wir auf diesem Platz, es ist einfach herrlich. Die Betreiber sind sehr freundlich, die Gegend ist herrlich und die Pizzas sind fantastisch. Allerdings sollte der Platz nicht weiter ausgebaut werden, sonst geht die Idylle verloren! Hoffentlich auf Bald!